FULL POFESSOR Dr. RAFAEL RADI MD, PhD.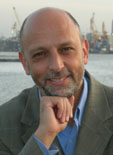 Rafael Radi, PhD, MD.
Rafael Radi, MD, PhD (Universidad de la República, Uruguay, 1988 and 1991), was born in Montevideo, Uruguay in 1963. Postdoctoral fellow at the University of Alabama at Birmingham, USA (UAB) from 1989 to 1992 and then was appointed to the tenured faculty (1992 to present) of the Facultad de Medicina, Universidad de la República. Radi currently holds the position of Full Professor and Chairman of the Department of Biochemistry (2006).

Dr. Radi´s research activities focus on the production, chemical biology, cell signaling actions and pathological effects of oxidants and free radicals (transient reactive species produced biologically and which participate in disease processes). He has made seminal observations regarding the biochemical mechanisms of the pathogenic actions of nitric oxide through its interaction with superoxide radicals and the formation of peroxynitrite. These events in turn have relevance to disease processes including atherogenesis, hypertension, neurodegeneration and inflammation. Dr. Radi's lab has pioneered the concept that oxygen radicals serve to "shift" the physiological signaling actions of nitric oxide towards pathophysiology. In response to this new insight, he has participated in the development, testing and chemical characterization of synthetic antioxidant molecules that serve as peroxynitrite decomposition catalysts to attenuate peroxynitrite-dependent toxicity (e.g. manganese porphyrins; mitochondrial-targeted antioxidants). In addition, his lab has shown that peroxynitrite and L-arginine metabolism play central roles during the cellular immune response to pathogens and in particular to the causative agent of Chagas disease, Trypanosoma cruzi. Novel anti-parasitic drug developments from these studies are now in progress. Overall, Dr. Radi´s research activities are directed toward defining the biochemistry of cell and tissue redox reactions and their role in disease states.


Included in the honors and awards Dr. Radi has received are the appointments as Howard Hughes Medical Institute International Research Scholar (since 2000), First Level Researcher in Biology and Chemistry of the National Research System of Uruguay (since 1999) and Honorary Professor of the Universities of Buenos Aires (Argentina), Alabama at Birmingham (USA) and Pittsburgh (USA). He was a fellow of the International Union of Biochemistry (1991), a Senior Fulbright Foreign Scholar (1998), Guggenheim Fellow (2003-2004). He has been elected to The Academy of Sciences for the Developing World (TWAS) (2004), the Argentinean National Academy of Sciences (2004) and the Brazilian Academy of Sciences (2006). Radi was twice awarded the national prizes in research of Biology (1996) and Basic Sciences (1999). He is the current President of the Society for Free Radical Biology and Medicine (www.sfrbm.org). He has published over 130 original research articles and 25 review articles. He has been cited over 11,000 times and has an H index of 49.

Radi has lectured extensively in both at regional and international Universities and International Research Conferences and Courses since 1991. He has participated in various national and international committees for evaluation of research thesis, fellowships and research projects. He is a Member of the External Advisory Board of the Center for Free Radical Biology of the University of Alabama at Birmingham, USA and Pasteur Institute Montevideo and a consultant of the University of Pittsburgh. He has served on the Organizing Committees of numerous International Meetings and Courses. He was the Chair of the Gordon Research Conference on Oxygen Radicals in Ventura, CA, 2006, Free Radicals in Montevideo 2007 and the Annual Meeting of the Society for Free Radical Biology and Medicine 2007. Radi is currently a member of the Editorial Boards of Archives of Biochemistry and Biophysics, Free Radical Biology and Medicine, and Brazilian Journal of Medical and Biological Research and Associate Editor of IUBMB Life.

He has obtained national and international grants including from the National Research Council and from Universidad de la República, the Howard Hughes Medical Institute (2000-2010), Fogarty-National Institutes of Health (1994 to 2003) and NIH Consortium Agreements with US Universities (2003-2012), International Centre for Genetic Engineering and Biotechnology (1998-2001; 2007-2010), Swedish Agency for Research Cooperation (1990-2000) and The Academy of Sciences for the Developing World (1993).

In addition to his role as teacher in Facultad de Medicina, Universidad de la República, Radi has trained a cohort of scientists in Uruguay, where he has directed numerous PhD theses in the areas of biochemistry, medicine and chemistry. In addition, Dr. Radi has contributed to the development of research infrastructure and is responsible of the installation and use of national core facilities such as those in Electron Paramagnetic Resonance and Stopped-Flow Spectrometry for Rapid Kinetic studies and the creation the new laboratories of the Center for Free Radical and Biomedical Research. He has also participated in the definition of national research policies as a member of the National Research Council of Uruguay and critically contributed to establishment of the national programs for PhD and MD, PhD studies at Universidad de la República.